Division / Integrated Medical and Pharmaceutical Sciences
Department of Cardiovascular Medicine
Great Departments / Metabolic and Cardiovascular Medicine

Staff
| | |
| --- | --- |
| Professor | Kenichi Tsujita |
| Associate Professor | Koichi Kaikita |
| Lecturer | Kenji Sakamoto (University Hospital Affiliation) |
| Assistant Professor | Eiichiro Yamamoto (University Hospital Affiliation) |
| Assistant Professor | Seiji Takashio (University Hospital Affiliation) |
| Assistant Professor | Yuichiro Arima |
| Assistant Professor | Satoshi Araki |
Research theme
Acute coronary syndrome (ACS) such as acute myocardial infarction, unstable angina, ischemic sudden death is recognized as pathological conditions caused by intracoronary thrombus formation following atherosclerotic coronary plaque rupture. We have elucidated the roles of coronary spasm and the blood coagulation and fibrinolytic systems in onset and progression of ACS.
Since 2015, we successfully introduced transcatheter aortic valve implantation (TAVI) procedure to consecutive 85 patients with severe aortic valve stenosis who could not have a surgical aortic valve replacement because of high age and comorbidities.
We also actively work on basic researches to elucidate the etiologies cardiovascular diseases, using animal models genetically engineered mice.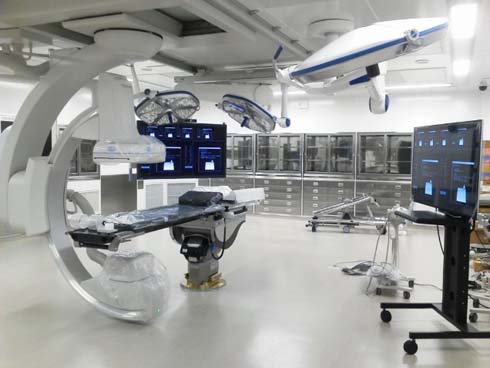 Hybrid operation room at Kumamoto University Hospital