Division / Integrated Medical and Pharmaceutical Sciences
Department of Ophthalmology
Great Departments / Sensory and Motor Organ Sciences

Staff
| | |
| --- | --- |
| Professor | INOUE Toshihiro |
| Associate Professor | TAKAHASHI Eri |
| Assistant Professor | KOJIMA Sachi |
| Assistant Professor | FUJIMOTO Tomokazu |
Research theme
Main projects in our department are molecular mechanism of glaucoma development, and retinal regeneration therapy. In detail,we are investigating the molecular mechanism in relation to glaucoma development, exploring a suitable therapy for genetic factors of glaucoma patients, developing a new therapy based on the mechanism of neuroprotection on the glaucomatous optic nerve damage and establishing a new neural stem cells for retinal regeneration. Clinically, risk factors for results of glaucoma surgeries are analyzed, and treatments of ocular complications in leprosy and familial amiloidotic poly-neuropathy are also involved.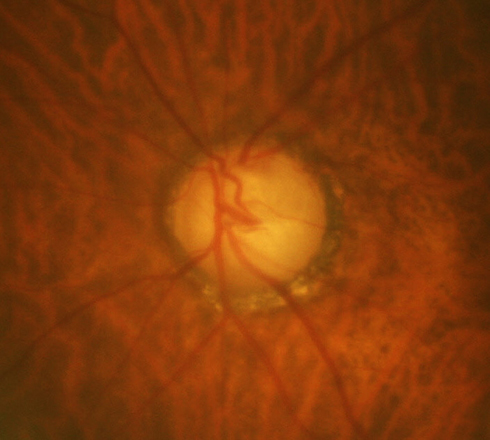 Fundus photography of glaucomatous eye.
It shows enlargement of optic nerve head cup with peripapillary chorioretinal atrophy.